Supermarket Cleaning Services
Cleaning supermarkets is not a simple task as customer traffic is typically much higher than in other retail stores and cleanliness is critical.
The use of a professional cleaning service is no longer a luxury, but rather a necessity. Modern offers a complete supermarket cleaning service that includes degreasing and sanitation to help you meet your industry's hygiene code standards.
Modern only uses products that meet EcoLogo standards
Most supermarkets have vinyl flooring (VCT). In addition to taking care of your premises cleaning needs, we will help you establish a maintenance program for your employees, so they can conduct basic maintenance tasks. When it comes to retail, particularly in the food sector, it is important to use non-toxic cleaning products in order to avoid food contamination. Modern only uses products that meet EcoLogo standards, which represent the official ecological certification established by the Canadian Government, which means that the products we use are biodegradable, safe, phosphate-free and non-carcinogenic. We also participate in the program on controlled products (WHMIS), which aims to protect the health and safety of workers by promoting access to information on hazardous materials used at work.
We offer the following services:
Customized cleaning program
Carpet cleaning service
Vacuuming service
Emergency cleaning
Hard floor maintenance
Office cleaning
Recycling
Lighting system maintenance
Cleaning of regular and storefront windows
Shelf dusting
Bathroom maintenance
Trust Modern for your supermarket maintenance needs. Feel free to contact us for a free estimate at 1-866-593-7587. One of our consultants will be happy to come by your office to assess your needs.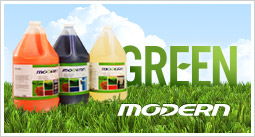 Don't hesitate to contact us for a Free Estimate!